Mipuchi Dog Perfume / New Zealand Lavender & Chamomile
Regular price

$32.00
Sale price
Select StyleMipuchi perfume
Pickup currently unavailable
Share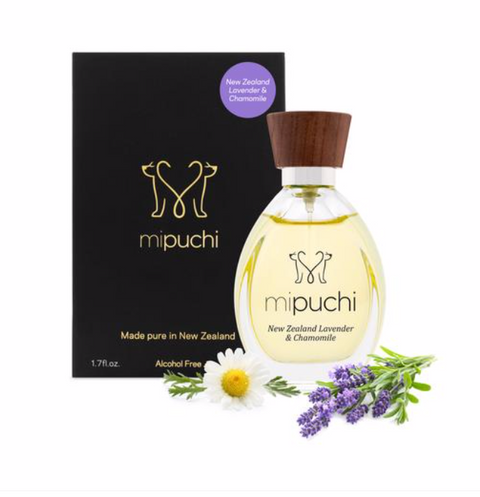 Calming luxurious natural scents of pure New Zealand.
This calming and soothing scent of pure New Zealand Lavender, balanced with base of Chamomile. All bottled together in a natural luxury perfume to relax you and your dog. New Zealand Lavender is grown in beautiful and pristine New Zealand fields, Lavender has long been used in medical tinctures for it's calming, purifying and fragrant qualities.
We never use alcohol in our fragrances so you'll never get a whiff of that and neither will your best friend. That's because once alcohol-based perfumes are applied they start to evaporate, causing moisture to be drawn from your dogs skin and hair potentially  causing dryness and irritation. Which is why we blend Mipuchi fragrances by hand using 100% plant-based products and oils to ensure your best friend's safety   Our patented natural formulas provide a protective film containing moisturising ingredients, which also contribute to a shinier coat and assist in making combing easier.
            No alcohol, paraben,sulphates, or harmful chemicals 
            8 -12 hours of fragrance 
            500 spays per bottle
            Non flammable
                    MADE IN PURE NEW ZEALAND