Gourmate / Wild Caught Calamari
Regular price

$11.00
Sale price
Pickup currently unavailable
Share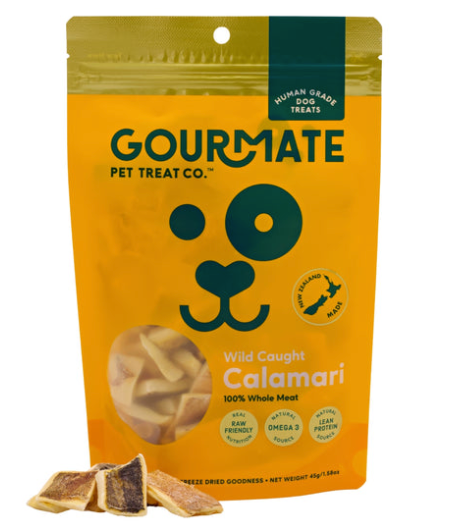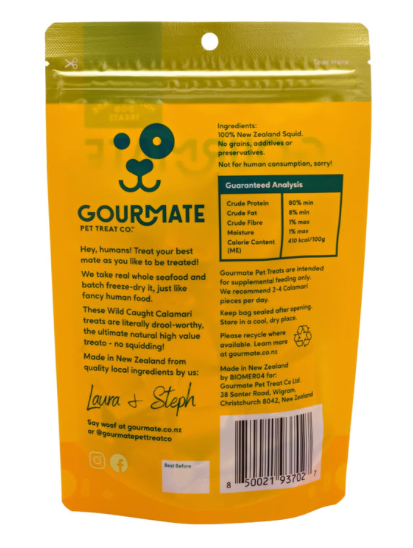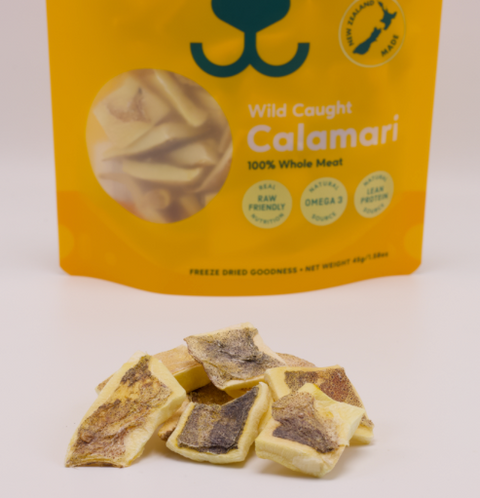 Get inkredible recall - our restaurant quality Wild Caught Calamari is a low-fat and high protein dog treat that will have your dog literally drooling at your feet!
The original Calamari dog treat - available only from Gourmate and loved by good dogs around the world.
A nutritious seafood treat high in omega - 3 fatty acids with vitamins and minerals to support skin and joint health, brain function, and more.
45g NET
* Gourmate uses high tech freeze drying to lock in the flavour, texture, and natural goodness of 100% New Zealand squid .
* Contains zinc for immunity, potassium for health hearts, vitamin B12 for nervous system and brain function, and copper for iron absorption.
* 80% protein and only 8% fat.
* Humanfood grade ingredients and processing for best quality.
* No additives  or preservatives.
* Gluten free, dairy free  and grain free dog treats.
* Proudly New Zealand sourced, made, and owned.
INGREDIENTS
* 100% Arrow Sqid
FEEDING
* Pet treats are intended for supplement feedingg only. we recommend 3 - 6 Calamari pieces per day as a treat or meal addition.
* Freeze - drying removes the moisture from raw food to preserve it. If you are including Gourmate Calamari  as part of a BARF or raw diet, please remember that our treats weigh approximately 75% less than their fresh equivalent.
* Not for human consumption. Sorry.