Gourmate / Freshwater Salmon Fins
Regular price

$11.00
Sale price
Pickup currently unavailable
Share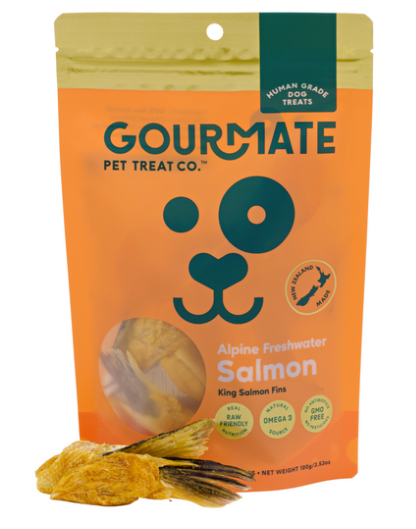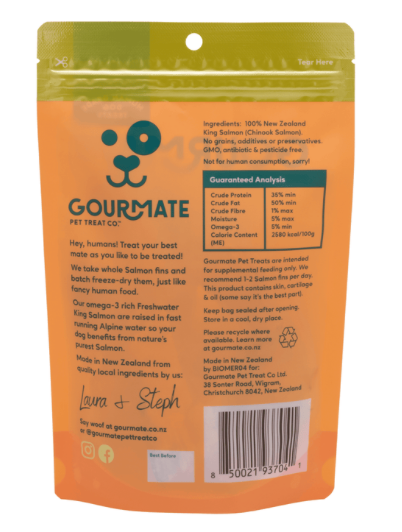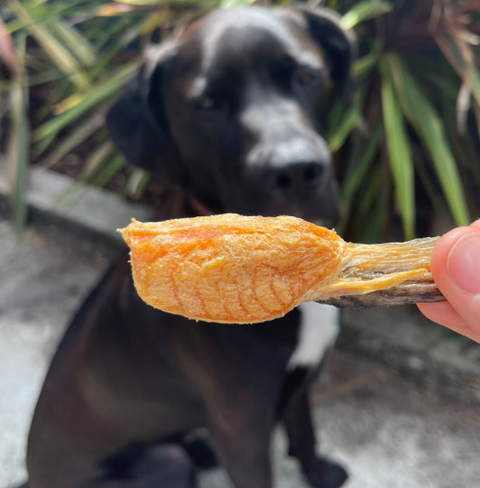 Gourmate has sourced the finest Alpine Freshwater Salmon Fins so that your dog can enjoy a chunky and delicious snack packed full of essential omega-3 fatty acids.
Raised in fresh running waterways of the South Island, this human grade sustainable salmon is pesticide , antibiotic, and GMO feed free.
Engaging and fun to eat, our Salmon Fins are made up from a rich salmon fillet with skin and cartilage, plus naturally occurring salmon oil.
It's a-fish-ally the best Salmon around.
100g NET
* Salmon supports brain function, healthy joints, heart health, and more.
* High tech freeze drying ensures the vitamins and minerals including essential fatty acids EPA and DHA remain as bioavailable as possible.
* Ethically raised in flowing freshwater - our suppliers are Best Aquaculture Practices (BAP) certified and do not use ocean pens.
* Human food grade ingredients and processing for best quality.
* No additives or preservatives, and Salmon are raised without pesticides , antibiotics, or GMO feed.
* Gluten free, dairy free, and grain free dog treats.
* Proudly New Zealand sourced, made, and owned.
INGREDIENTS
* 100% King Salmon - that's all
FEEDING
* Pet treats are intended  for supplemental feeding only. We recommend 1-2 Salmon Fins per day as an enrichment treat or meal addition. Aways supervise your dog with treats.
* Freeze-drying removes the moisture from raw food to preserve it. If you are including Gourmate Alpine Freshwater Salmon as part of a BARF or raw fed diet please remember that our treats weigh less than their fresh equivalent.
* Not intended for human consumption. Sorry